Why Gabe the Babe & Co?
What originally started as blog for Kristie to educate others on Down syndrome has evolved into something more. We realized how important it is for Gabe, and other people, to have purposeful and meaningful work. Knowing that, we decided to create Gabe the Babe & Co. into a business that can grow with Gabe. Gabe is currently our top model and unofficially the official boss. As a military family, we are doing what we can to build Gabe the Babe & Co. as we move around the country. We are currently focusing on t-shirts, until we live somewhere permanently and can do even more to help others. Thank you for coming along for the ride. We are so excited about the growth Gabe the Babe and Co. has had and are looking forward to where this journey takes us.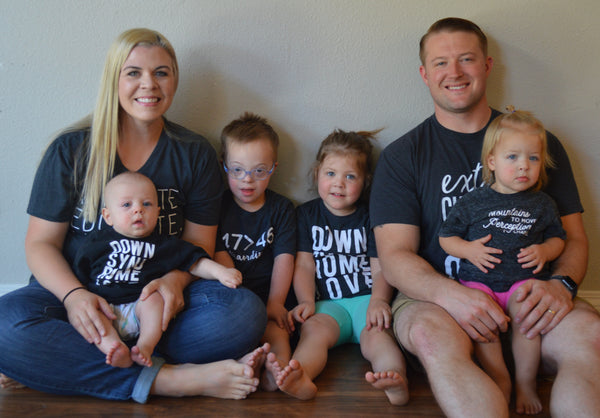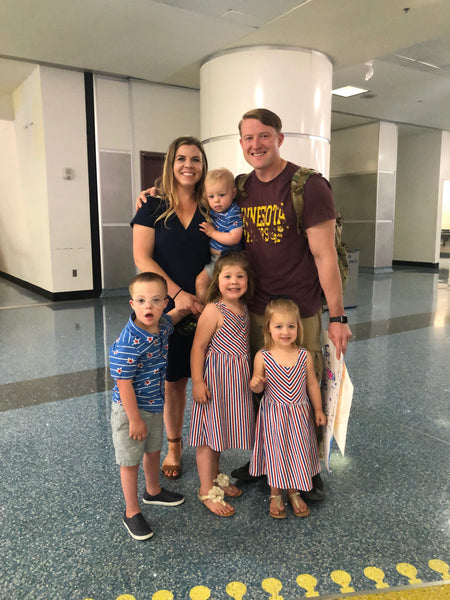 Who We Are
Welcome to Gabe the Babe & Co! We are an Air Force family originally from Minnesota (Go Gophers!), but currently live in southern Alabama. Alex is a helicopter pilot and Kristie stays home with the kids. We had 4 babies in 4 years! Gabe is 5.5 and just started kindergarten, Lottie is 4, Maggie is almost 3 and Vince is 20 months.
Gabe was born in February 2014 and surprised us at birth when we found out he had Down syndrome. Kristie started a Facebook page for awareness, advocacy, and her own personal outlet. We always knew we wanted to do more to spread DS love and are finally putting those dreams in motion.
We're starting with t-shirt sales and hope to add more products soon. We love these designs because they are conversation starters and a great way to advocate. We have big plans for gtb&co. - we want to grow with Gabe and provide meaningful work for him as he gets older. We love dreaming up big ideas for the future!
We are so excited for our new venture and hope you love our products just as much as we've loved making them. #startaconversation
Frequently Asked Questions
Can I return/exchange?
We want you to love your purchase! If you don't "love" it when you open the package (the item is not worn and within 7 days of delivery) contact us for a return/exchange. Please make sure to choose your size and color carefully as these items cannot be resold.
Package was delivered, but it not on my doorstep or mailbox? Now what?
The most common cause for this situation is the delivery person accidentally placed the package in the wrong location (neighbor's doorstep, incorrect mailbox, etc...). Please contact your local post office with the tracking number for assistance, as Gabe the Babe and Co is not responsible for lost or stolen packages.
Where can I find a size chart?
Please see pictured size chart.
International Orders
At Gabe the Babe & Co., we try our hardest to accommodate international orders and of course we want our messages spread around the globe!
Please understand, that you, the buyer, is fully responsible for any and all additional fees that may be incurred for importing consumer goods. These may include VAT, tariff, duty, taxes, handling fees, and/or customs charges. These vary from country to country and it is up to the buyer to know what your country requires.
Please know that we do not make any money off of these fees and they are completely out of our control. If you have questions on these potential fees, please speak with your local postal or customs office.
Unfortunately, we cannot provide an estimate of these potential fees and it is up to you, the buyer, to fully understand what additional fees you may incur upon delivery. If custom fees are refused upon the time of delivery, you will not received a refund for shipping costs and your order will likely be returned.
The shipping is automatically calculated off of weight and destination. Again, we are not collecting any money from shipping and it is what we are paying to mail the products to you.
Shipping
Due to increased demands, we are doing out best to ship orders within 7-10 days. Please contact us if you need your shirt sooner!